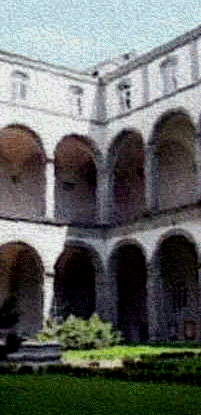 Università degli Studi di Napoli Federico II
Dipartimento di Studi umanistici
PhD in Modern Philology
---
Doctorate Board for the current cycles Patricia Bianchi, Corrado Calenda, Michela Cennamo, Anna Maria Compagna, Nicola De Blasi, Silvia Disegni, Francesca Maria Dovetto, Pierre Dufief (Université de Bretagne Occidentale, Brest), Antonio Gargano, Raffaele Giglio, Rosamaria Loretelli, Stefano Manferlotti, Andrea Mazzucchi, Laura Minervini, Matteo Palumbo, Pasquale Sabbatino, Antonio Saccone, Oriana Scarpati, Rosanna Sornicola, Tobia Toscano
Director Costanzo Di Girolamo
PhD School Classical and Modern Philology
---
The PhD course in Modern Philology was established in 2001 (XVI cycle); it is made up of two previous PhD courses in Romance Philology and Linguistics and in Italian Studies (in Southern Italian Literature in particular), which in turn were the result of the division of a previous PhD course in Modern Philology, going back to the establishment of the PhD qualification in Italy following the University Reform of 1980.
It covers the following subject areas: Romance and Italian Philology and Linguistics, Italian Literature, European and American Languages and Literatures (Catalan, English, French, German, Spanish), Literary Criticism and Comparative Literature, Historical and General Linguistics.
At the University of Naples Federico II, each of these wide fields of study has a long and prestigious history, recognised both nationally and internationally, which goes back, as far as the modern period is concerned, to the second half of the nineteenth century. Major scholars who have taught Philology, Linguistics and Literature here include Luigi Settembrini, Francesco De Sanctis, Francesco D'Ovidio, Giacomo Lignana, Michele Kerbaker, Francesco Torraca, Ezio Levi D'Ancona, Giuseppe Toffanin, Salvatore Battaglia, Elio Chinol, Giovanni Alessio, Alberto Cento, Mario Di Pinto, as well as many others who are still active today. In more recent years, this tradition has been kept up by younger generations of scholars and at present the Department has close ties for research purposes with major universities both in Europe and world wide.
Over the past few decades the PhD courses of the Department of Modern Philology have awarded the title of PhD to many young researchers, most of whom are now working in universities or in academic institutions both in Italy and abroad, while others have found suitable forms of employment in other areas.
The PhD course is part of the Doctoral School in Philological and Literary Sciences.
The PhD course's teaching programme coincides with the courses and lecture and seminar cycles organised by the Department of Modern Philology and aimed specifically at PhD students. Please check the online Bulletin Board for a list of activities and the Archive of events page for those that have already taken place, as the scheduled courses and seminars listed in the PhD School pages.
---